TIMBER SLAB FURNITURE USING TRADITIONAL JOINERY
High quality Australian made timber tables, desks, kitchen benchtops, bars, custom furniture, bathroom vanities
Solid timber kitchen benchtops can greatly affect the overall appearance of your kitchen so it is essential you choose the exact one to compliment your style of kitchen.
Timber benchtops provide a natural ambience and rustic feel to any kitchen. They are not only durable but provide a friendly and inviting warmth to any house hold. So if you are looking for a custom made slab timber benchtop to match for your kitchen, look no further, we will provide you with a top end design that will have everyone complementing you.
Natural drying time can take up to 2.5 to 4 years, but we can shorten the timber drying process by up to 80%. We air dry the timber then kiln dry it to get the moisture rate down to 10% – 12% making it ready for manufacture; this takes our timber drying time down to less than 5 months. We have a selection of timber slabs ready to go so there is no waiting time.
Our solid timber dining tables are meticulously hand-crafted from 100% sustainable hardwood timber slabs sourced from the Australian mid north coast, guaranteeing the strength and durability of our furniture.
When you entrust us with the task of designing and creating natural timber dining tables for your home or business, you are receiving more than just a beautiful piece of furniture, you are receiving a memorable masterpiece that is guaranteed to stay in your family for generations to come.
Timber Dining table sizes can range from small to very large. Some of our single timber slabs are mind blowing in dimension at 4m long and 1.6m wide. Each timber dining table is made from a single slab of timber. Looking for a 8 seater or 12 seater dining table we have timber slabs available to suite.
We specialize in creating the most beautiful outdoor timber furniture: bar tables, tables and chairs, benches, posts and beams are just some of the masterpieces we create using traditional craftsman techniques.
We also work with you to design original outdoor timber furniture for your specific needs, so if you can dream it, we are happy to build it for you.
Our artisan timber craftsmen use only the best sustainable timber slabs from the hinterlands in the mid north coast of Australia.
We use hardwoods like red cedar, blackbutt, tallowood, silky oak, red gum, she oak, brush box, blue gum and bloodwood so you can choose whichever timber you love the most and would suit your home or office the best.
Solid Timber Slab Furniture
Australian Heirloom Timber is a manufacturer which specializes in large single timber slabs, the design and creation of beautifully crafted single slab tables, kitchen bench tops, bathroom vanities, bars, counter tops and bench seats, board room tables. Custom products and outdoor timber furniture.
We are a privately owned eco-business involved in the sustainable growth of forest, the environment is extremely important to us. We strive to keep the forests healthy. Our license adheres to the Nature Vegetation Act 2003.
At Australian Heirloom Timber we are true believers in increasing the number of trees in the forests of Australia, while enjoying the experience of having the unique and timeless beauty of natural timber slab furniture in our homes and places of business.
---
---
Why Choose Australian Heirloom Timber Slab Furniture?
OUR EXPERIENCE
Our founder Ian Evans is an extremely talented and skilled craftsman. He holds an Australian license in joinery and carpentry and has over 30 years experience within the timber manufacturing trade. His passion and skills are evident in the methods he uses, from sourcing the quality timber for the design to the creation of beautifully crafted natural timber tables with flawless joinery. So when you provide us with the privilege of creating the newest addition to your family, you will not be disappointed.
AUSTRALIAN MADE
Australian Heirloom Timber is 100% Australian owned and all its products are made in Australia. We use 100% sustainable hardwood timber slabs sourced from the Australian mid north coast, guaranteeing the strength and durability of our furniture. Our slabs are air and kiln dried and tested for moisture content. We manufacture our furniture in Avalon Sydney & the mid north coast of NSW, we can arrange for delivery of our furniture Australia wide.
ECO FRIENDLY
We care about our environment as that is where we sournce our timber slabs from.
We practice selective logging, along with seed germination and the planting of new trees. We also keep our fuel consumption at a minimum.
This approach ensures that the environment stays healthy and we have a continuous supply of timber slabs
TIMBER SPECIES
We have the following types of timber slabs available:
• Red Cedar
• Blackbutt
• Tallowood
• Silky Oak
• Red Gum
• She Oak
• Brush Box
• Blue Gum
• Bloodwood
---
What Our Customers Have to Say
"I write to you today to thank you for the wonderful job you did on our dining room table. You took so much time to listen to exactly what we wanted you to create, asking key questions and finding out just what we needed and wanted.. This made a difference to us because our large family and other things we use the table for – so we wanted to make sure the table was right in the end, which it was."
"The finished product was a beautiful hand made rich timber creation that we love to look at each time we sit down to eat. It is smooth to touch and lovely to look at – when I have people over they comment on what type of timber it is and who made this unique piece of furniture."
"I would not hesitate to recommend you to the next person needing a table."
"Thank you so much for our wonderful dining room table. It is truly a masterpiece and is something our family will treasure for generations to come. Your passion and enthusiasm is infectious and we enjoyed the journey from design to polishing."
"I can't believe the transformation from that huge rough slab of timber to our final exquisite dining table which is our cherished piece of furniture. We can't wait to start creating memories with family and friends around this awesome object that you and tree hundred years of nature created."
"Well done on your professionalism."
"I am writing this email to you in relation to the table tops at Manly. We are very happy and have received many compliments from customers and people who pass by the restaurant.
"The table tops look amazing, and its finishing is great. Once again, thank you for the great work, and we are very pleased with them."
Regards,
Manly Wine & Pizzeria.
---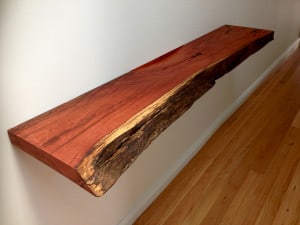 Floating Shelves
---
Our beautifully crafted high quality solid timber furniture is the result of Ian's experience, expertise and passion. Each piece we create reflects the love we have for our craft, the timber we use and the techniques we have perfected over the decades.