Timber Dining Tables Sydney
Solid timber dining tables are our flagship product. Make your home unique with our custom made timber dining tables.
Having your dining table custom made assures you that your needs and preferences are not compromised. It also saves you from worrying about you new furniture clashing with your homes appeal. At Australian Heirloom Timber, we can design and create beautiful unique solid timber dining tables which will reflect your personal style.
If you have an idea or design in mind let us know!! We will happily assist you to turn your vision into a reality. If you are not exactly sure about what kind of dining table will best suit your needs, call us, and we will offer our suggestions and expert advice. Australian Heirloom Timber provides an endless variety of timeless unique furniture.
Of course your custom furniture will be unlike any other – not only in the way it looks, but also in the way it functions. Your design possibilities are endless.
Our artisan craftsmen use only the best sustainable timber from the hinterlands in the mid north coast of Australia. We use hardwoods like red cedar, blackbutt, tallowood, silky oak, red gum, she oak, brush box, blue gum and bloodwood so you can choose whichever timber you love the most and would suit your home, office, business the best.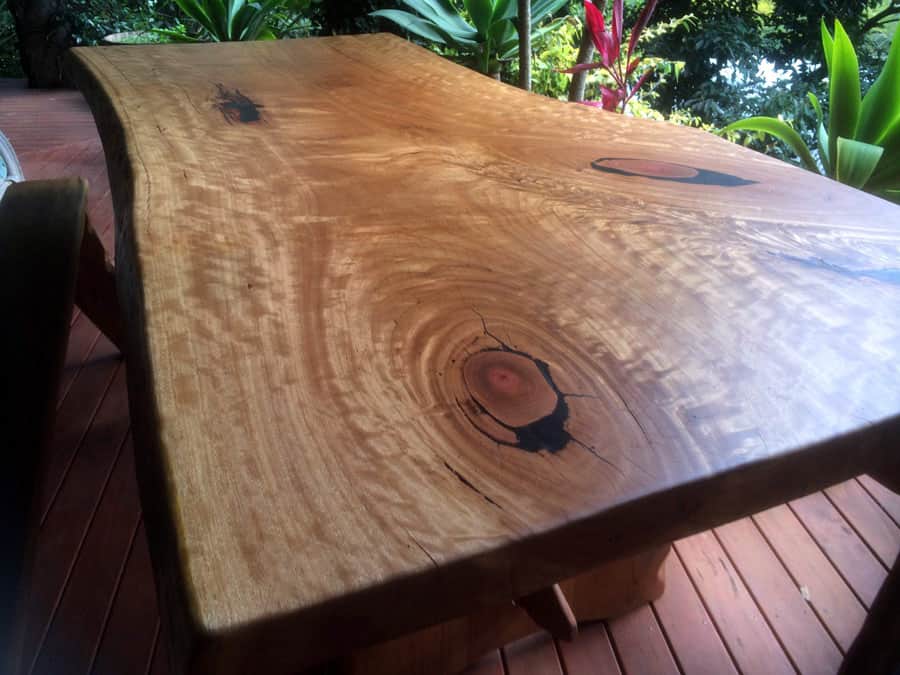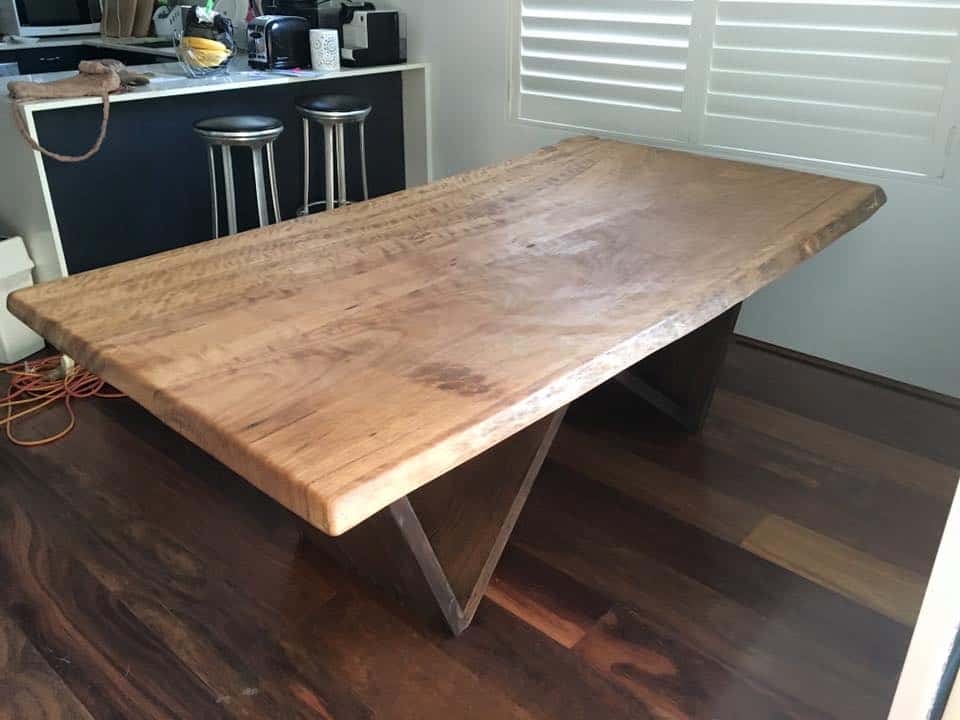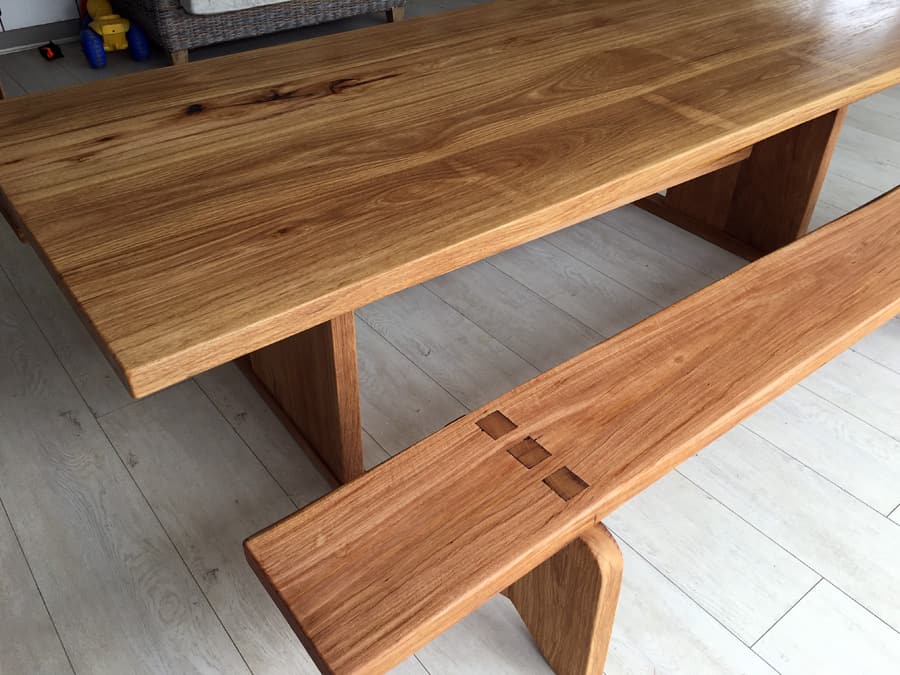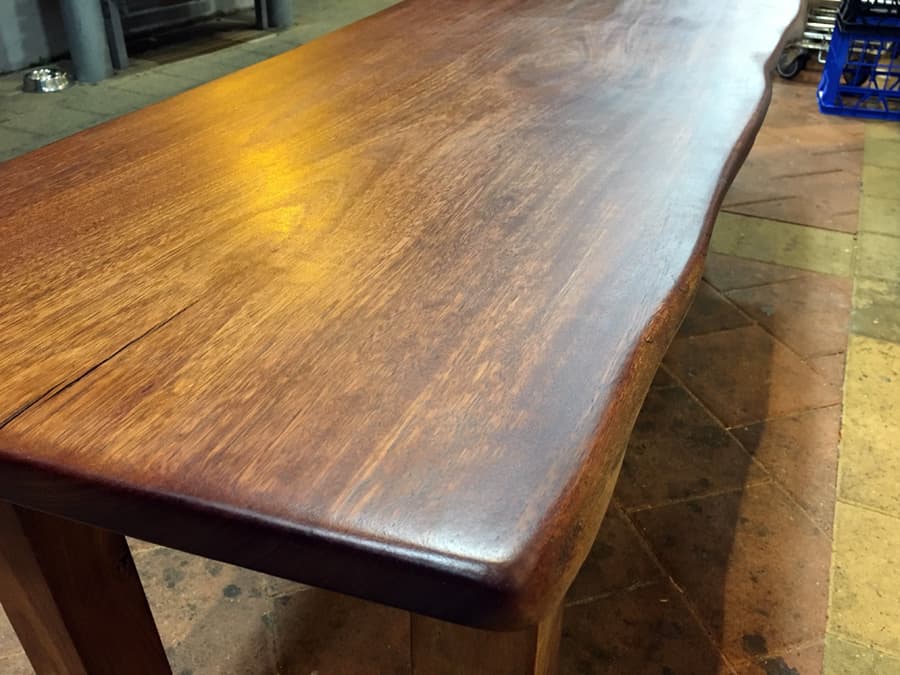 TIMBER SELECTION PROCESS
The first step in creating our signature timber dining tables involves felling a selected tree. The log is the cut into slabs of different sizes where the tree is felled.
The second step is to transport the cut slabs back to the work site, where the timber is stacked and battened to dry.
Natural drying time can take up to 2.5 to 4 years, but we can shorten the timber drying process by up to 80%. We air dry the timber then kiln dry it to get the moisture rate down to 10% – 12% making it ready for manufacture; this taking our timber drying time down to less than 5 months.
Your timber is then selected from the dried stacks for milling into your requested furniture piece. Your timber slab is then planed by an overhead router then sanded all over with dry sand paper 7 times starting at 40 grit (a very coarse sand paper) and working our way up to a 400 grit (a finer sand paper) We lovingly sand your timber slab to eradicate any little imperfections making it smooth and perfect for oiling.
Our first coat of tongue oil is then applied to the timber and left for 24 hours to be absorbed. Sanding of your slab in is the commenced again using 500 grit wet and dry sand paper. The process of sanding and oiling is then repeated another 7 times.
A natural resin forms over the wood which is then rubbed into the timber to provide a smooth and protective finish.
It may seem a lengthy process, however the final result is an amazing refined glass mirror finish which is smooth and soft. The natural beauty, smell and feel of the timber is preserved, so the soul of the tree is not lost.
TIMBER DINING TABLE SIZE
Dining table sizes can range from small to very large. Some of our single timber slabs are mind blowing in dimension at 4m long and 1.6m wide. Each timber dining table is made from a single slab of timber. Looking for a 8 seater or 12 seater dining table we have timber slabs available to suite.
LOCATIONS WE SERVICE
We have made timber dining tables for customers throughout NSW. We can ship our timber products anywhere in Australia or Overseas. Australian Heirloom Timber is located in Sydney's Northern Beaches in Brookvale.
HOW TO ORDER
If you have a specific design, feel free to email it to us or contact us to discuss your needs. You can choose from a range of hardwood timber to suit the type of base and top you are after. If we don't have it in stock we can source it no problem. Not only will you be buying an individual, handcrafted timber dining table, you will be buying a piece of furniture that will last a life time and longer.
To order or any questions about an Australian Heirloom Timber Dining Tables
Phone Ian on: 0466 977 710
E: info@austht.com.au
Quality timber slab furniture made in Sydney, Northern Beaches NSW Australia.
Timber Species Available
• Red Cedar
• Blackbutt
• Tallowood
• Silky Oak
• Red Gum
• She Oak
• Brush Box
• Blue Gum
• Bloodwood