TIMBER KITCHEN BENCHTOPS SYDNEY AUSTRALIA
Australian Heirloom Timber can provide you with that special home or business feature item such as stunning timber benchtops. We service Sydney, Brisbane, Adelaide, Perth, Melbourne and all other parts of Australia, with our large range of premium solid timber products. A timber kitchen benchtop is the ideal way to introduce a stylish piece of timber furniture into your home or business. Whether you are looking to replace your old benchtops or getting a new kitchen or alternatively would like it as a stand-alone feature piece, we can help you.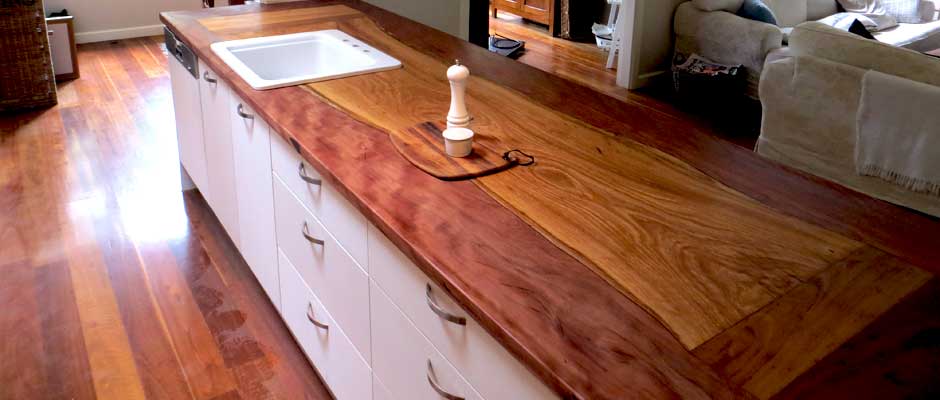 We have a variety of timber species to choose from and the choice between receiving your materials in single solid slab or a solid glue-laminated option where several solid pieces of timber are glue laminated together to achieve wider than standard widths. We can also supply waterfall edges and we can always recommend an appropriate top coat of oil, which acts as a sealant on and protects the benchtop from daily wear and tear (ie. scratching and marking).
Our kitchen benchtops provide a natural ambience and rustic feel to any kitchen. They are not only durable but provide a friendly and inviting warmth to any house hold. So if you are looking for a custom made timber benchtop, Island benchtops for your kitchen, look no further, we will provide you with a top end design that will have everyone complementing you. Our benchtops are made from solid timber slabs.
NEW OR OLD KITCHEN?
Weather you have an existing kitchen or getting a completely new kitchen we can fit our benchtops over your existing or new cabinetry.

HOW TO ORDER YOUR NEW KITCHEN BENCHTOP?
Send us your plans or some approximate sizes of your kitchen via email or phone and we can give you an indication of price. From there we can work with you and or the cabinetmaker to choose the right timber for the job based on durability and colour, we have a range of Australian hardwood species to suite. We then handcraft the kitchen benchtop to for a perfect fit.

OPENING FOR SINKS AND STOVE TOPS?
* Option 1 – To get the size and shape of the stove top and sink correct, you can send us a template for the cutout (this can be sent in the post) and then a location of where the cut out will go.
* Option 2 – The sink and stove top cut out can be done after the kitchen benchtops are installed by your cabinet maker / builder to ensure correct location.

ISLAND BENCHTOPS
We can make beautiful handcrafted island benchtops to compliment your new or existing kitchen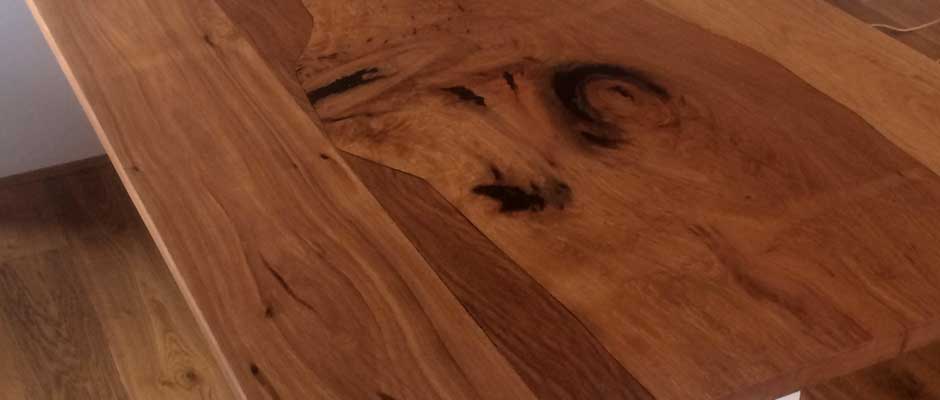 TYPES OF TIMBER AVAILABLE FOR YOUR BENCHTOPS
We have the following types of timber slabs available:
• Red Cedar • Blackbutt • Tallowood • Silky Oak • Red Gum • She Oak • Brush Box • Blue Gum • Bloodwood
All our timber is kiln dried, natural drying time can take up to 2.5 to 4 years, but we can shorten the timber drying process by up to 80%. We air dry the timber then kiln dry it to get the moisture rate down to 10% – 12% making it ready for manufacture; this takes our timber drying time down to less than 5 months. We have a selection of timber slabs ready to go so there is no waiting time.

DELIVERY
We can arrange Australia wide delivery

Contact information
Feel free to drop us a line, or emailing our team today!
Phone: 0466 977 710
Eamil: info@austht.com